If you haven't used a Wells Fargo ATM lately, you're really missing something. They now let you deposit checks without an envelope. You can even buy stamps. And, they provide you with free corporate propaganda. To wit: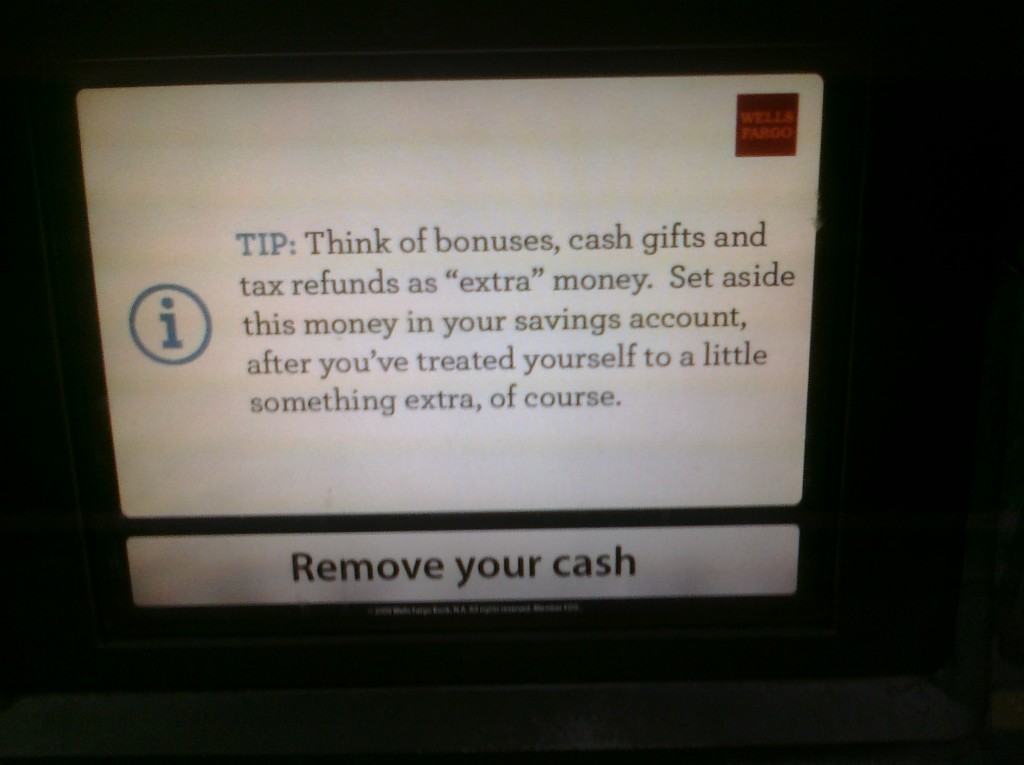 This is the most misleading, unhelpful, counterproductive advice offered by a major financial institution since BankAmericard (VISA's predecessor) used the ridiculous slogan "Think of it as cash."
Despite what Wells Fargo tells you, don't think of anything as "extra" money. There is no extra money. Not for you, not for Carlos Slim Helu. We're all slaves to scarcity – it's what forces us to make choices, opting for the college fund over the Bora Bora trip. (Although if you're going to study English or philosophy, the latter might be the better buy.)
This is the same fallacy that gamblers use to rationalize with when they win on their first spin of the slot machine. "It's OK if I lose it. I'm playing with the house's money."
By that logic, it's no big deal to lose your entire paycheck. After all, you're playing with your employer's money. Which makes about as much sense as a bank considering "bonuses" to be a separate class of money distinct from the kind that comes in your salary.
If it's yours, it's yours. It doesn't matter whether you spent hours in the hot sun harvesting watermelons to earn it, or if you found it on a street corner. It's all green to the salesman at the yacht store, or wherever else you decide to squander it. (And don't kid yourself: the yacht salesman doesn't think of the money he receives from you as "extra.") If you're going to spend some of your money intelligently – say by buying undervalued stocks, or refinancing your house should interest rates have fallen enough – why wouldn't you spend all of your money intelligently?
Look; unlike some people, we don't make it a habit of bashing commercial banks just for existing. A lot of this country's collective personal financial pain of the last few years could have been avoided if people had spent a few minutes reading the agreements they'd made with banks before signing those agreements. You shouldn't begrudge Wells Fargo one dime of what they take in credit card interest payments. Nor was it wrong for them to foreclose on the house of anyone who refused to honor their mortgage.
But this seemingly innocent ATM screen "tip" belies something more sinister. The implicit message is that instead of investing your bonus or tax refund yourself…well, Wells Fargo has an idea as to who might do it better.
"Set aside this money in your savings account"? Wells Fargo's basic savings account requires you to keep at least $300 in it. Do that, and they WON'T charge you a monthly $5 service fee:
$5 a month = $60 a year = at best, a -20% rate of return on your money.
Never mind that if you want to keep $299.99 in your account, it costs Wells Fargo a miniscule fraction of a penny to "service" it. The remaining $59.9999…. is pure profit for almost no incremental effort or risk on their part.
But if you're enough of a fat cat to keep $300 in your new Wells Fargo savings account, gently recommended by the friendly reminder on the ATM screen, you'll enjoy the bank's generous interest payments.
Of .03%.
In other words, if you keep $299.99 in your account, doing so will cost you $60 over the course of a year. But if you keep $300 in your account, you'll be 9¢ ahead.
That's in current dollars, of course. If inflation stays higher than .03%, which it will, you'll still be losing money regardless of how much you keep in your savings account. Meanwhile, the bank will be loaning out your ready cash at far greater rates.
But you don't have to earn a better return on this savings account balance – after all, it's just "extra", right?
If you don't need your bonus to feed and clothe yourself with immediately, then put it in your 401(k). If your tax return (which you shouldn't have received anyway, because it meant the IRS enjoyed your money interest-free all year long) is burning a hole in your pocket, invest the money in a depressed commodity. Or use it to further reduce an outstanding debt.
The rule remains eternally valid: Always look at a transaction from the other party's perspective. What are they getting out of it? In this case, they're getting near-unfettered access to your money.
And nothing is worth that.
**This article is featured in the Carnival of Personal Finance #318: The Breaking Bad Edition**