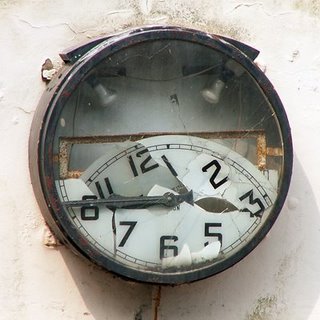 We've done this before, hosting our own Carnival and someone else's back-to-back. Like any good helicopter parent, we don't trust anyone else with our baby, so here's what would normally have been Monday's Carnival of Wealth, postponed 2 days to fit with our regular schedule.
Like the Best of Money Carnival we ran 2 days ago, this is a collection of personal finance blog posts from around the world. Unlike the BoMC, ours isn't restricted to the 10 best posts we received. A truth that will manifest itself momentarily.
Aside, prelude and life lesson:
The CYC principals took their cat to a local bookstore the other day, part of pretty much the only national chain still in existence. The cat, who's extremely docile and laid-back, loves to be held for hours on end and loves to be in public. Her favorite store is Home Depot, but a bookstore will do in a pinch. The principals are cognizant enough not to take her to restaurants and supermarkets, but will take her just about anywhere else, other conditions permitting.
Also, the cat's been to other locations of this same bookstore chain and has never had a problem. Until running into the miserable crone who manages the West Charleston Boulevard, Las Vegas location.
We were immediately "greeted" with "We don't allow cats. Because of the café." (There's a Starbucks in the bookstore. Our plan to sneak behind the counter and wipe the cat's backside against the assorted pastries and sandwiches was thus foiled.) We didn't plead our case, the woman's mind was clearly made up and as we walked out she repeated her mantra about the café. The store has no sign prohibiting pets, by the way.
Did we mention she was unattractive? (This is relevant.) Maybe 60 but looked a good deal older, with the regulation sensible housewife haircut, unfashionable glasses, amorphous body and turkey neck. The cat wasn't the only sour puss in this little melodrama. Free Money Finance wrote a post a few weeks ago in which he argued that being attractive is good for your finances. It's good for the world at large, too.
A few weeks earlier, we went to the bank (we don't do everything together, this is just coincidence) to get a document notarized. Simple, straightforward stuff. Between us we've probably had 50 documents notarized at this small, community bank. The document went for several reams, so we just brought in the final page; the one with a place for a signature.
The notary was probably 100% overweight (which you'd figure would make it more likely that she'd wear support garments, not less, but whatever) and had the kind of posterior that wasn't merely fat, but misshapen. Like, one cheek was the size of a watermelon but the other was the size of an engine block. Our conversation went like this:
"Could you notarize this?"
"What is this? Where's the rest of the document?"
"1, it's a questionnaire from the Canadian Securities Institute, and 2, at home. Can you notarize this?"
"Not without seeing the rest of it."
"Why not? All we're asking for is for you to confirm that the signature indeed belongs to the person who's about to sign it. Which you will then have a record of, in the unlikely event that the law ever needs to get involved. The content of the document shouldn't matter."
Then the inevitable staredown. Then the battle cry of the unthinking loser who'll never advance in her chosen field: "I'll ask my supervisor." Why help a customer when you can inconvenience the customer instead?
She has no supervisor, at least not with regard to her duties as a notary public. What she meant was that she was going to go into the back for a couple of minutes and shove another cruller in her face, which we encouraged because we wanted to see if she could get out of the chair without using her arms (she couldn't) and what her asymmetrical waddle looked like from behind (indescribable, you really needed to be there.)
On her return you could see the powdered sugar on the corners of her mouth. "My supervisor won't let—" Yes, whatever lie you need to save face. As if that's a face worth saving.
We went across the street to The UPS Store, where Willow Palin's 23-year-old doppelgänger smiled and said, "Sure. That'll be $5."
The moral? There's a reason why "ugly" means both "physically unattractive" and "objectionable". An ugly person watches the attractive people enjoying life – which makes sense, as they're healthier, happier and more positive – and decides that instead of emulating them, it's time to ratchet up the jealousy. The ugly people won't admit as much, but it's palpable.
It's not like we're dismissing these people based on the body God gave each. Everyone can do something. There's no excuse for being fat. You don't have a thyroid problem, you have a diet and (absence of) exercise problem. You can buy less dowdy clothes. You can do something with that hair. Or you can say, "Looks aren't important, I don't have to fit into your predetermined beauty standards" and keep on not only being miserable, but sharing that misery with the rest of us.
Given the choice, always seek out the attractive person – whether in retail or at the bar. Which will increase the attractive person's already healthy self-esteem, widening the gap between them and the unattractive people even further. This is how it should be. The uglies can't impact us if we don't let them.
Epilog: After being kicked out, we went to another location of the same bookstore a couple of miles away. At least half a dozen employees saw the cat, and none said boo.
Alright, on with the Carnival of Wealth. Personal finance blog posts from other people. Some great, some awful, few in-between. Let's read:
Nothing says "originality" and "dedication" like a WordPress blog that uses the default theme. Marie at Family Money Values wants to know where people with $1 million – $5 million in assets go for investment advice. (Let's just say we had plenty of chairs at the table this week.)
Steve Zussino at Grocery Alerts is nothing if not quixotic. Week after week he sends us off-topic and pointless posts, which we tear up and down, and yet he keeps submitting. (And clearly doesn't bother reading the CoW, nor even the weekly emails we send saying that we accepted his submission, so we might as well continue.) That chick from Newlyweds on a Budget holds the current CoW record, submitting 6 consecutive pieces of doggerel before finally pulling out, but her mark is in serious jeopardy after we received this submission about the supermarket items most often stolen. Actually, he just summarized someone else's article, but that counts as research these days.
Kevin at Christian PF thinks you should max out your 401(k) contribution and pay off your debt. Groundbreaking, yes.
Drew Custer at Nerd Wallet enjoys soccer, but don't let that stand in the way of this post about why you shouldn't use a credit card to pay your tax bill. Now if we can just get the active voice to be used by Drew.
Lance at Money Life & More got himself a Samsung Galaxy S II Skyrocket "free". Obviously that doesn't include the price of the contract, but paying 0 out of the gate is still good if other people are paying upwards of $150. Lance worked his way into a deal that he wouldn't have gotten had he not asked for it. We're willing to bet the sales rep he dealt with was physically attractive, too.
Are there really people who buy cars on Craig's List? "David Singer" (no way that's his real name) at Auto Insurance Quotes says yes, and a quick look at our local classifieds confirms it. Seems risky, which "David" seconds and which he shows us ways to minimize the risk of.
Are we just naïve? It seems that from a legitimate seller's perspective, selling on eBay would make a lot more sense. Yes, it costs money to place the ad, but eBay's auction format would seem to imply that you could get more money for your vehicle. And from a buyer's perspective, you'd be less likely to get scammed.
Habeeb at Best Dividend-Paying-Mutual-Funds breaks down a different such fund every week. This week's subject is the Yacktman Mutual Fund, named after 5-star mutual fund manager Don Yacktman.
Hey, here's an idea: instead of looking at one facet of return, look at total return. Thus Dividend Growth Investor, who makes that very lament this week. Of course you should consider dividend yield to be merely one component of whatever you're investing in.
It'd be like the Oklahoma City Thunder saying last Thursday, "Great news! Kevin Durant scored 32 points and pulled down 11 rebounds!" Yes, and you got blown out in a game that looked far worse than its 15-point difference, and your opponent won the championship. DGI continues with his helpful synopses of some of the world's best-known companies:
The Coca-Cola Company (KO), a beverage company, engages in the manufacture, marketing, and sale of nonalcoholic beverages worldwide.
No one, at least no one we know, knows the Canadian energy markets like Mich at Beating the Index. He analyzes Shoreline Energy, which is a natural gas producer with operations in Alberta and which has been trading for barely a year. Shoreline paid awfully generous dividends, which they recently scaled back thanks to the vicissitudes of the natural gas market. See what Mich envisions for Shoreline's future.
Finally, Liana Arnold at CardHub breaks down the positives and drawbacks of UPromise's new MasterCard. You can use the card's rewards to fund a student loan or 529 plan.
Wait. Can't you do that with any card?
Yes, which Liana points out.
And that brings us to the end of another thrilling Carnival of Wealth. Thanks for joining. We'll see you tomorrow with another Anti-Tip of the Day, Friday with another fresh post, and Monday (not Wednesday) with another edition of the CoW. Cheers.