NOTE I: 
Welcome to our ProBlogger readers, wondering what you stumbled upon and whether it applies to you. (Unless you're a trust-fund brat, it does.) This is the one personal finance blog that will not only help you build wealth, but periodically enrage you while doing so. More here. 
NOTE II: 
To our regular readers who didn't understand the previous paragraph, we wrote a piece on ProBlogger. Does it apply to you? Absolutely it does! It's the detailed explanation of why we don't allow comments on the site. If you want to contact us, try Twitter. Or Facebook.
_______________________________________________________________________
Let's look at Monday's biggest percentage losers, among companies with market capitalizations of at least $1 billion:

Multiple choice quiz time. What single event could cause a company's stock to lose 28% in a day?
CEO strips naked, runs into local TV studio during 5 pm newscast.
Company executives plead guilty to multiple counts of fraud and embezzlement.
Customers develop necrotizing fasciitis after touching company's product.
Lawsuits, or the threat thereof. And government regulation, or the promise of same.
Based near Grand Rapids, Michigan, Gentex makes auto-dimming rear view mirrors, and rear cameras for you people who think clueless children riding on tricycles behind parked cars are worth saving. Gentex also makes dimmer switches that are supposed to replace the shades on airplane windows. The company got its start in the 1970s by selling smoke alarms.
A month ago, Gentex got sued by a competitor who claimed that Gentex infringed on a patent for improved car headlamps.
Furthermore, Gentex was banking on the promise of those dead and dismembered children. The National Highway Traffic Safety Administration was supposed to mandate rear cameras on all new cars, an obvious windfall for market leader Gentex. And an obvious hassle for the rest of us, who'd each be paying $200 or so more for a new car. But the NHTSA hasn't made a decision yet, and doesn't plan to until the end of the year. (As for what backover accidents have to do with a government bureaucracy whose name implies a mandate for highway traffic, we're not sure.)
Next up is DeVry, which announced that it's getting harder to lure students. For one reason, the other for-profit colleges are ramping up admissions. Also, after decades of cluelessness, traditional colleges are figuring out that they can offer online education without compromising their precious accreditation.
Bruker is a German manufacturer of x-ray machines, spectrometers and stuff. Bruker committed the least forgivable sin of all, failing to meet analysts' expectations. A single disappointing earnings report led to Monday's fall, illustrated here: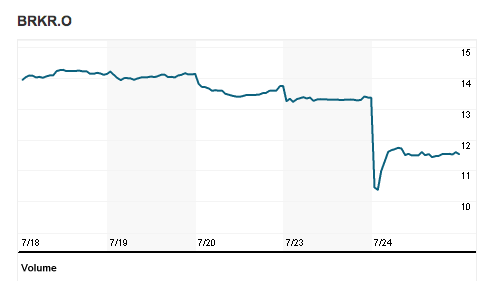 Elan is an Irish drugmaker. Why did its shares fall by 1/6? One word. Bapineuzumab! Or if you prefer, C6466H10018N1734O2026S44. 
It's an Alzheimer's treatment, and it hasn't done so well in recent trials. Alzheimer's patients didn't respond any better to bapineuzumab than they did to placebos, even among the patients who thought the placebos were jelly beans and tried to shove them in their ears. Elan produced bapineuzumab in conjunction with Eli Lilly, Johnson & Johnson and Pfizer (OMG collusion!) all of which took smaller if still significant hits.
And Lexmark you've probably heard of. Based out of Lexington, Kentucky, they make printers. (And would presumably be named "Virginmark" if they were based out of Virginia Beach. Not funny? Go to hell.) Lexmark got wounded by the same problem that hit Bruker – either weak results or unduly optimistic analysis by the forecasters.
Lexmark's 3rd-quarter profits were 75-85¢ a share. This for a stock that trades around $18. In a vacuum, that sounds pretty good. In a world where analysts have determined that Lexmark should have made 89¢ a share this quarter, it's cause for panic. Fleeting panic, anyway.
What's the point? 2 points, actually:
It's still a marathon and not a sprint. Unless you're 98 years old, in which case we take it back, it's a sprint.
Don't let analysts make decisions for you.
Meeting projections is what Soviet central planners did. A relatively free economy doesn't lend itself to narrow projections, especially among independent analysts to whom a public company is an abstraction, a prospectus, a series of symbols.
If your question is which stocks to avoid, understand that a stock only becomes worthless when the market renders the underlying company obsolete (Research in Motion, any minute now), or if it turns out that the emperor never had any clothes to begin with (Enron). And dying companies don't die suddenly, at least not on run-of-the-mill news like one of many new products not doing well in tests. Or 3rd-party expectations not being met.
Gentex remains a market leader, and the NHTSA's refusal to mandate rear cameras seems like a mere deferment, rather than a policy change. ("What? You just want children to die?!")
Elan is still in a burgeoning industry, one that won't be going anywhere until we learn how to genetically engineer babies in the womb. Lexmark is still profitable, and trading at barely 4 times earnings. (At a 3-year nadir, no less. Just like Gentex.)
DeVry has an attractive price-to-earnings ratio too, under 7, and it's easy to see its low price (a 7-year nadir) as a buying opportunity. But it's also the only company on the list of today's biggest losers whose business model might be getting rapidly outdated. (Apollo Group, the parent company of the University of Phoenix, is in a similar position.)
DeVry enrolment is down 20% from last year, which we're taking as a good sign – fewer people will spend a semester at night school when there's the possibility of actually working instead. For-profit graduates are also learning, for lack of a better word, that a DeVry degree in justice administration or business communications just doesn't mean what it used to.
(Which is a joke, of course. It never meant anything.)
Traditional colleges don't have that problem. They've managed to convince kids and parents that there are irreplaceable benefits to a college education, and that belief is a hard one to uproot. Furthermore, traditional colleges have endowments, legacies, and football programs that make money without having to pay the players. Also, such colleges don't have shareholders. If the University of South Florida (or more aptly, Penn State) had a board of directors instead of regents, the liquidation would have started a while ago.
Which isn't to make this a jeremiad against higher education. We do that often enough as it is. Instead, we implore to never invest without thinking. And to understand the difference between a daily blip that's ultimately meaningless, one that will soon be forgotten; and the recognition of a major shift in a particular economic sector.
THINK. While you're at it, stay emotionless. If you're among the poor unfortunates who own Gentex stock, think of today as an opportunity to engage in some dollar-cost averaging. If we'd lost on DeVry stock (or on Apollo Group), we'd bail.