This week, no garbage. Yes, the awful posts are fun to mock, but it's the kind of satisfaction that can leave you wanting if you partake in too much of it. Like that second bite of funnel cake at the county fair. We haven't reached the point of diminishing returns yet, but for the sake of variety today's carnival will consist of nothing but well-crafted posts.
If you're new here, the Carnival of Wealth is our weekly roundup of personal finance blog posts from other sites. And as you can surmise, most of the submissions we receive serve only as bad examples. But not today, God willing. Let's get started:
Andrew runs a site, 101 Centavos, that's almost as entertaining as this one is. Andrew shows us where a flaw can lie in the Dogs of the Dow strategy. He also tells us that he used to be a project manager for, of all companies, Avon, in, of all places, Saudi Arabia. Avon is the focus of this post. Apparently there are some investors who think after online commerce has supplanted much of its brick-and-mortar predecessors, there's still room for direct sales of cosmetics. Best of luck with that.
Ladies, if you're too unattractive to marry someone rich, you're going to need to save for retirement. Monette at Finance Guide Tips lays out all the important basics in one post – how much a typical 401(k) match is, what a summary plan description is, where to find the perfect pleated skirt, etc.
Entrepreneurship. Oh, you mean it wasn't a rhetorical question? It's our response to the title of Ted Jenkin's post at Your Smart Money Moves: College Education or Entrepreneurship? Ted tells the stories of two adolescents who chased their dreams immediately instead of deferring life first. (Yes, it was the white kid who sold furniture and the Indian kid who ran a web hosting business. Racial stereotypes exist for a reason.)
Still sold on going to college, huh? If you're not going to study the hard sciences (political science, despite its name, is anything but a hard science), math, the applied sciences, or the financial sciences, you're wasting your time. And probably wasting taxpayer dollars too, not that that's anything anyone cares about anymore. Free Money Finance reminds you to begin with the end in mind – figure out where you want to be 4 years from now, then tailor your college and major toward that. This is another one of those posts where it was hard to select just one excerpt to illustrate its brilliance, but here goes:
A relative told me her son was headed to college next year and asked if I had any thoughts on how he should decide where to go. My answer was something like "pick a college that has a good record of getting graduates good jobs in the student's chosen field." Her response was, "Wow, that's a great idea. I never really thought of that."
Speaking of college students getting in over their heads, Mike at Rewards Cards Canada lists a bunch of credit cards for aspiring debtors. There's a table and everything. Here it is, reprinted with his implicit permission: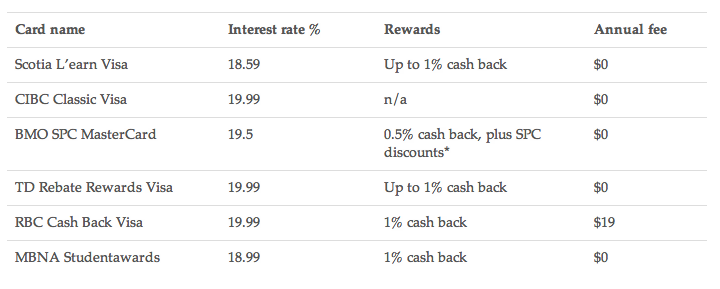 Take a big black Sharpie, and immediately cross out the entire 2nd column. Seriously, go ahead and do it, right now. Deface your computer screen, we don't care.  One more time: interest rates don't matter. They are the least important criterion when selecting a card.
Why? Because every card carries the exact same interest rate: 0. (You are paying the entire balance off every month, right? Otherwise, why are you in possession of a card? You've proven you can't handle credit.)
Now cross out the entire 5th row, too. Because paying a company $19 when someone else offers a virtually indistinguishable product for nothing is stupid.
That leaves one informative column, the 3rd one. And one obvious choice for which card to get. God, personal finance is the easiest subject in the world. There's no excuse for not being rich, or at least liquid.
Possibly. That's the answer to another question posed in a blog post's title: Is it Time to Refinance Your Mortgage?, courtesy of Charles Davis at Wallet Hub. Most people fail to take closing costs into account when refinancing, a necessary expenditure that lenders don't like to publicize. But still, 15-year rates are at 3.04% right now. Your grandchildren might one day pay 18% and ask you to tell them stories about how awesome life was in the '10s.
That's Wallet Hub, not to be confused with the slightly different Wallet Blog. John Kiernan avails us of a infernal little number called the mortgage credit score, not to be confused with its more generic brethren. Who knew that paying your credit card bills on time while being consistently late with your rent might be a bad thing?
The chick at Young & Thrifty figured out that if an airline does a promotion, reading the fine print can be worth your while. She earned points for buying as little as $3 worth of gas at a time, so guess what? Yeah, she turned every fuel-up into multiple transactions. And saved an effective $80 an hour in the process. Not quite as awesome as The Pudding Guy, but still very impressive. Bonus: She spelled "paraphernalia" correctly, which no one ever does. Double bonus: She casually mentioned her boyfriend in the final paragraph, slicing the ribbon of hope from all her single male readers in one swift motion.
You know what your parents are going to leave you? Nothing. Boomer and Echo remind you to rely on yourself for your retirement, rather than on the miserly instincts of the previous generation. (Note: Boomer & Echo submit almost every week, and it's usually Echo who writes the posts. This week it was Boomer. Boomer happens to be Echo's mother, making this the single greatest passive-aggressive post in the history of the CoW. We can't wait for next week's submission from Echo, "Hospice Care In The Next Decade: Will Seniors Really Be Admitted Against Their Will?")
Finally, in at least 2 senses, Part VI in W's series on A Speculative Alternative to Investing at Off-Road Finance. You need to read the 5 previous installments to make sense of it, but that would be time well worth your while. This post is technical, but not at all unintelligible. W takes sophisticated concepts and illustrates them for the committed layperson who wants to be rich. Hopefully, that's you.
Thanks again. New Anti-Tip of the Day tomorrow, new posts Wednesday and Friday, new CoW Monday. New Investopedia posts intermittently. See ya.