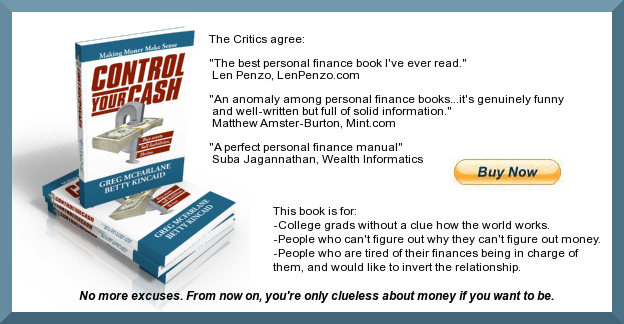 We started Control Your Cash for one reason:
Your relationship with money is almost certainly dysfunctional. You don't know what you don't know, probably because nobody ever taught you.
Fortunately, you can stop letting money act on you – and actually take charge of it.
We don't give patently obvious advice here, stuff like "spend less than you make." (Wow, what insight.)
Instead, we show you what pitfalls to avoid and what quiet opportunities to take advantage of. Spend a little time here and you'll no longer have to pretend that you know what the S&P 500 is. Or whether a Roth IRA is better than a traditional one. You'll understand the why, and the how.
And you'll find that personal finance is a lot less complicated than you thought.
The Latest
The well of creativity is barely a trickle at this point. Our muse went to St. Tropez with someone younger and better-looking, and that was months ago. Is she ever coming back? We'll leave a light on. Spend more time at the gym. Buy more flattering clothes. Vacuum the house once in a while. Damn, […]
From the Archives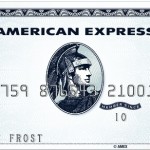 We're still having this discussion? Listen, the credit card companies don't owe you a thing. You owe them. That's how you got stuck in this mess, remember? You applied for a card. You signed an agreement. No one "preyed" on you. Coyotes prey on ground squirrels. But the ground squirrels never initiated proceedings with the […]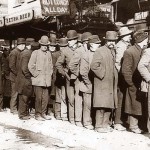 This year we're giving you a week's notice before you camp out like a masochist. Today's rhetorical discussion question: Is your time worth anything? Anything at all? If Black Friday represents something other than an unmarked holiday for you and yours, an opportunity to do nothing that's normally required of you, a day on […]
Our blog is featured at Four Pillars.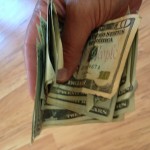 This is a guest post from Logan Abbott, a personal finance expert and blogger. He's also the editor of MyRatePlan Credit Cards, an authority site for comparing credit cards online.   5 Tips To Keep In Mind When You Apply For A New Credit Card Almost every time I open my mailbox, there's a few credit […]